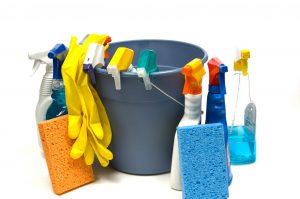 Commercial office and building cleaning.
Your commercial office building is the face of your company. To keep your business looking its best, we provide commercial cleaning services of the highest standards backed by our local experts who take the time to understand your unique needs.
Using the latest technologies and procedures, we provide a clean, healthy environment for you and your employees, done to your complete satisfaction. Simply put, we care about clean and it shows in our work, our people, our accountability to you, and our commitment to delivering on our word.
Commercial floor cleaning, stripping, waxing and sealing.
Cleaning, stripping, waxing and sealing flooring is an important part of giving your facility that clean and welcoming look. High-traffic areas are prone to dirt and grit and this can give an otherwise beautiful floor an undesirable appearance.
We will completely strip your tile flooring. We then recoat all areas with an industrial grade wax. With high-quality stripping and waxing, your flooring will remain clean, shiny and attractive for years to come.
Our office cleaning services may include all internal, general and routine cleaning – including floors, tiles, partition walls, internal walls, suspended ceilings, lighting, furniture cleaning, window cleaning, deep cleaning of restrooms and washing facilities, kitchens and dining areas, as well as cleaning of telephones, and other periodic cleaning as required. We also replace your consumables such as toilet tissue, paper towls and soaps. External building cleaning,picking up litter, and removing of graffiti may also be incorporated.
Building maintenance, furnace filters, Bulb replacement.
Lawn care.
Carpet Cleaning and Scotch Gard treatment.
Carpets, even with regular vacuuming, needs hot water extraction cleaning every 18 to 24 months for that deep cleaned look and feel.
Disinfection of phones, door knobs etc.
Trash collection
Vacuuming.
Cleaning of windows and blinds